Reply
Topic Options
Mark Topic as New

Mark Topic as Read

Float this Topic for Current User

Bookmark

Subscribe
Highlighted
Mark as New

Bookmark

Subscribe

Email to a Friend
Ethernet Splitter? An Ethernet Switch is what you really need
Why you want an Ethernet Switch and not an Ethernet Cable Splitter, Lan Splitter, RJ45 Splitter, Ethernet Splitter or Ethernet Hub.
At some point in time you may find yourself running out of RJ45 Ethernet ports on your router. And, being a good netizen you're aware that plugging into your network is the fastest, most secure and reliable way to connect to your router. Or you simply have too many devices that have no ability to connect via WiFi such as an IP Phone or even a PC with an RJ45 Ethernet jack only. What are you to do when you run out of ports? The obvious first thing that might come to mind is that you need to "Split" one of your Ethernet ports into more ports, just like an old-school telephone line. So, the next thing you do is hop on google or amazon and search for Ethernet Splitter or maybe Ethernet Hub or even Ethernet Cable Splitter. With a bit of luck your searches might eventually lead you to the device you're really looking for, an Ethernet Switch!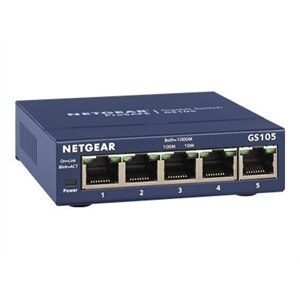 Just need a few more network ports? Check out the 5-port GS105 Network Switch.
What is an Ethernet Switch?
Unlike an Ethernet Splitter, an Ethernet switch uses clever digital technology to act as a digital switchboard, ensuring that one device only talks to one port at a time. Remember back in the day when you might plug in two telephones to the same line using a phone line splitter? Sure, it worked, but if you picked up the second line you could hear everything happening on the first line. The same principal works with networking. Due to this issue with cross-talk, you cannot really split a single Ethernet cable with an Ethernet Splitter. Ethernet Splitters do have some uses such as splitting and recombining the individual wires inside a single cable. Not at all useful for creating more ports on your network.
Why don't I want an Ethernet Hub?
Well yes, you could use an Ethernet Hub to get the job done, but Ethernet Hubs are considered outdated technology. An Ethernet Hub is sort of like a "party line" for your network. Imagine everyone is on the phone at once, but in order to address one person first you'd have to announce to whom you are talking to, while waiting for everyone else to stop talking. While It does work it's not very efficient. Fortunately, clever engineers who designed the first network Ethernet hubs quickly found that the most optimum way to allow multiple devices to talk was by creating very high-quality rules and protocols allowing every device to connect at the highest possible speeds. That technology developed was named a "Network Switch".
What speed Ethernet Switch do I need? Fast Ethernet? Gigabit? 10G?
So you've decided you need an Ethernet Switch. How do you go about choosing one that is right for you? When it comes to price vs. performance, the most common Ethernet speed at this time is called Gigabit Ethernet. 1G or Gigabit Ethernet can transfer 1 billion bits per second. This is the equivalent of about 50-100 minutes of music, 10-30 photos or 1-2 minutes of 1080p video. In all practicality these are theoretical speeds and is highly dependent on things like traffic congestion, Router or switch speeds or even computer hard-drive speeds. Your router most likely has between 1 and 5 Gigabit Ethernet Ports.
Buyer beware, "Fast Ethernet" is not that fast (Anymore).
Fast Ethernet is ten times slower than Gigabit Ethernet. It's the most common name for a technology called 100BASE-T that is rarely in use across most networks these days. (Although some low-performance devices might still use it). It was named "fast" because at the time, it was significantly faster than the previous level technology. Fast Ethernet Switches are still available but they are becoming quite uncommon. Fortunately, in a modern Gigabit Switch, fast Ethernet devices will not slow down your entire network, and the switch will connect only that port in a "Fast" mode.
10Gb Ethernet is 10x faster than Gigabit Ethernet, but pricy.
Generally, switches with 10Gb Ethernet pay a significant premium for each 10G port. Often a mid-range switch might have 1 or 2 10Gb ports in order to create a communication super-highway between two or more switches. Other times, premium switches will have huge numbers of 10Gb ports. Unless you have very specialized needs, this will rarely be needed for most home office or small business deployments.
| | | | |
| --- | --- | --- | --- |
| Ethernet Speed Name | Link Speed | Example NETGEAR Switches: | Switch Use Case |
| Fast Ethernet, 100Base-T, 100M | 100mb/s | "FS" Fast Switch e.g. FS105 5-Port Fast Switch | low-bandwidth or rarely used devices. (e.g. Older printer, Lighting Hub) |
| Gigabit Ethernet, 1G, 1000Base-T | 1,000mb/s | "GS" Gigabit Switches e.g. GS108 8-Port Gigabit Switch | General uses across all homes and businesses. 1Gb/s is most common link speed. |
| 10g, 10 Gig, 10GBase-T, 10 Gigabit | 10,000mb/s | "XS" 10G Switches, or switches ending with "X" 10gb Uplinks. M4300-8X8F 10g Switch (XSM4316S) | High end gaming, NAS server, Core Switch. Edge switch. AV-over-IP Switches |
| M-Gig, 2.5g, 5g, MultiGig (New) | 2,500 – 5000mb/s | Switches ending with "MX" GS110MX 10-port Multi-Gig uplinks Switch | Access for WiFi Access Point, High-bandwidth connection for Multi-gig capable devices. Performance enhancement for Cat5e and Cat6 Cabling. |
PoE and Other notable switch technologies:
Power over Ethernet (PoE) - Ability to power certain devices over Ethernet. This includes access points, point of sale devices, IP Phones and security cameras. PoE switches require a premium cost over a non-PoE switches. Even with the increased costs, it's ultra-convenient or even necessary for some deployments and give great ROI for businesses and even homes. Visit our PoE Switches page. Or check out the 10-port PoE+ Switch GS110TPP. Great for a PoE security camera deployment.
Managed? Unmanaged, Smart Managed Plus, Smart Managed Pro and Fully Managed Switch, Cloud/Remote Managed Switches
This designates how switches are controlled or managed. Most small home office switches are unmanaged. This means you just click in a cable and you're ready to go. But, as network requirements go up, the ability to connect to your switch and update configurations, or how they handle various types of security or traffic requires some level of management is required Read our article on Network Switch Management types Managed vs. Unmanaged Switches.
CAT5e, Cat 6 and other Category RJ45 Cables. In general, most networks use Cat5e cable with "RJ45" connectors (hint, it looks like a fat phone cable). Cat5e cable is rated to handle 1G Ethernet at the full 1G speed. But with recent technologies like Multi-Gig they can generally handle speeds from 2.5G to even 5G, and in some cases for short distances 10G Ethernet. The connector on the end of a category cables is called RJ45 or an RJ45 connector. Other types exist, but RJ45 is by far the most common. Sometimes people might mistakenly call category cable "RJ45 cables" since this is the name of the connectors on the ends.
A Network Switch is not a router. Switches create networks, routers connect different networks together. A router usually has a single WAN port. This takes a signal from your modem and broadcasts the information over the local router ports. You would not plug a switch directly into your modem. Instead you should plug your Modem into your WAN port on your Router and then plug your switch into your router through another port.
Feedback on this article? Join the discussion below.
Please click
KUDOS or REPLY If you found this helpful.
Aspirant
Mark as New

Bookmark

Subscribe

Email to a Friend
Re: Ethernet Splitter? An Ethernet Switch is what you really need
Highlighted
Mark as New

Bookmark

Subscribe

Email to a Friend